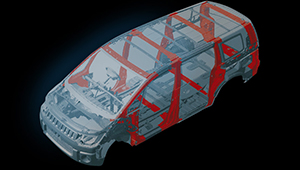 RISE - Reinforced Impact Safety Evolution
RISE is a monocoque body system that combines an energy-absorbing front and rear section with a strong, rigid occupant cell to provide protection in the event of an accident. It features high tensile steel reinforcing bars in doors and energy-absorbing material in the side pillars and roof rails. The body structure is based around a one-piece shell with high levels of bending and torsional rigidity, which provides a steel cage for the safety of both the driver and passengers.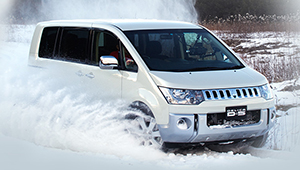 Switchable Drive Modes
Choose between 2WD mode which powers the front wheels only, 4WD mode which supplies power to all four wheels through the limited slip differential and LOCK mode which locks the differential and supplies equal power to all four wheels, particularly useful in off-road low traction situations.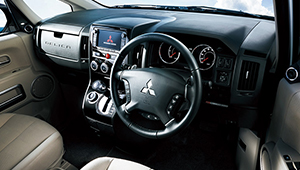 Smart Key System
The Delica has an intelligent key system that does not require a key to be inserted into the lock or ignition in order to open the car or start the engine. Often known as keyless go, the system enables the driver to merely keep the key on their person and when within 70cm of the vehicle, opening the drivers, front passenger or tailgate, the locks open automatically upon sensing the key in proximity. The engine is started by simply having the key inside the vehicle, depressing the brake pedal and turning the start switch to the start position. No more looking for keys in pockets or bags.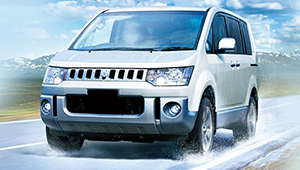 Safety Features
The Delica D:5 has a high emphasis on safety and features a wide array of SRS airbags including, Driver and Front passenger airbags, side airbags, curtain airbags for all three rows, knee airbag for driver. The Automatic Stability Control (ASC) improves the safety by helping the driver regain control of the vehicle when it detects a loss in traction, and the Anti-locking Brake System monitors wheel speeds and prevents lock-up of a wheel or wheels when braking. This ensures the vehicle stops earlier in an emergency situation.
Delica D5 Range
Delica D5 D-Power
| Features
DID 2.2L 4 Cyl. Turbo Intercooled Diesel engine
6-speed Automatic transmission
4WD
18" Alloy Wheels
Power sliding doors
Audio System - 6 speakers
Captain seat
Vehicle theft alarm
Seats - Heated front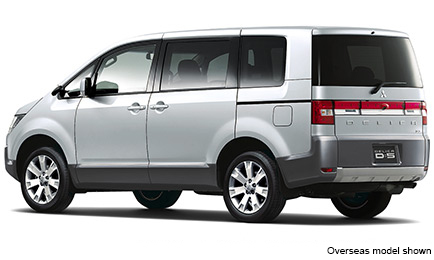 Delica D5 D-Premium
| Features
DID 2.2L 4 Cyl. Turbo Intercooled Diesel engine
6-speed Automatic transmission
4WD
18" Alloy Wheels
Front Fog Lights
Headlamps - High Intensity Discharge (HID)
Privacy glass
Cruise Control
Hill Start Assist (HSA)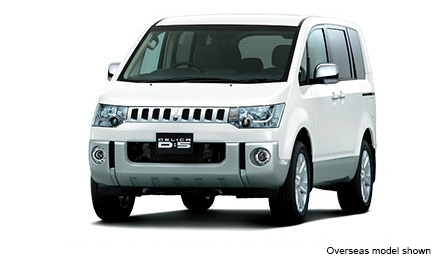 MIVEC 2.4L 4 Cyl. engine
6-speed CVT Automatic transmission
4WD
Privacy glass
Active cornering lights
Air Conditioning
Power sliding doors
Anti-theft immobiliser
16" Alloy Wheels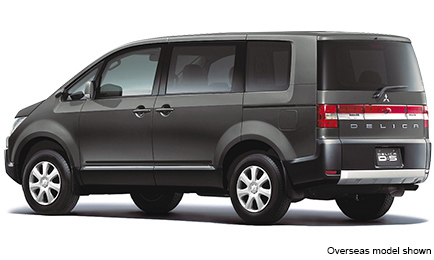 Delica D5 G-Power
| Features
MIVEC 2.4L 4 Cyl. Petrol engine
6-speed CVT Automatic transmission
4WD
18" Alloy Wheels
Front Fog Lights
Captain seat
Cruise Control
Paddle shift
Hill Start Assist (HSA)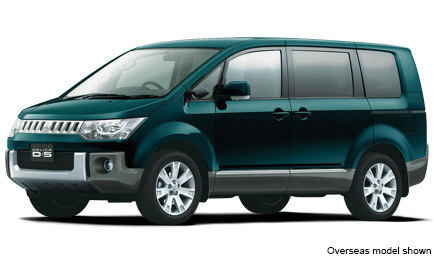 Delica D5 G-Premium
| Features
MIVEC 2.4L 4 Cyl. Petrol engine
6-speed CVT Automatic transmission
4WD
18" Alloy Wheels
Headlamps - High Intensity Discharge (HID)
Air Conditioning
Bluetooth® connectivity
Captain seat
Steering Wheel - Audio Control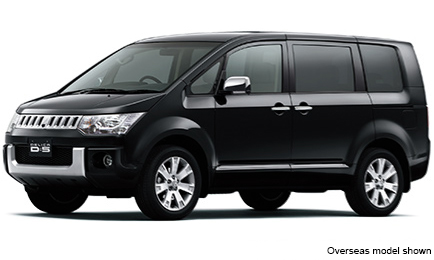 Delica D5 Roadest M
| Features
MIVEC 2.4L 4 Cyl. Petrol engine
6-speed CVT Automatic transmission
4WD
16" Alloy Wheels
Headlamps - High Intensity Discharge (HID)
Power sliding doors
Air Conditioning
Anti-theft immobiliser
Hill Start Assist (HSA)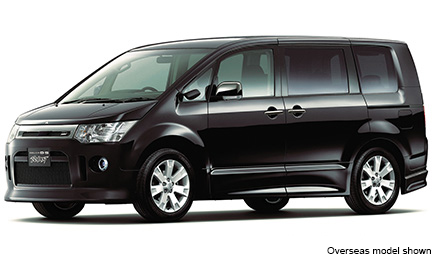 Delica D5 Roadest D-Power
| Features
DID 2.2L 4 Cyl. Turbo Intercooled Diesel engine
6-speed Automatic transmission
4WD
18" Alloy Wheels
Front Fog Lights
Power sliding doors
Cruise Control
Leather wrapped steering wheel
Anti-theft immobiliser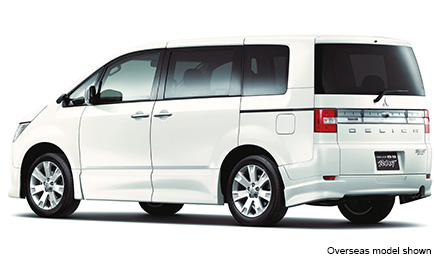 Delica D5 Roadest G-Power
| Features
MIVEC 2.4L 4 Cyl. Petrol engine
6-speed CVT Automatic transmission
4WD
Active cornering lights
Headlights - Coming home function
Privacy glass
Cruise Control
Leather wrapped steering wheel
Paddle shift
Delica D5 Roadest G-Premium
| Features
MIVEC 2.4L 4 Cyl. Petrol engine
6-speed CVT Automatic transmission
4WD
18" Alloy Wheels
Headlights - Coming home function
Bluetooth® connectivity
Multi Information Display
Seats - Heated front
Steering Wheel - Audio Control